Real Estate is an "Essential Service" in Florida. Buyers are still buying, in fact, the buyers out there right now are serious buyers! People have more time to search for properties. More listings are closing and getting accepted offers, (Back-up, Contingent, Pended and Closed) than new listings coming on the market!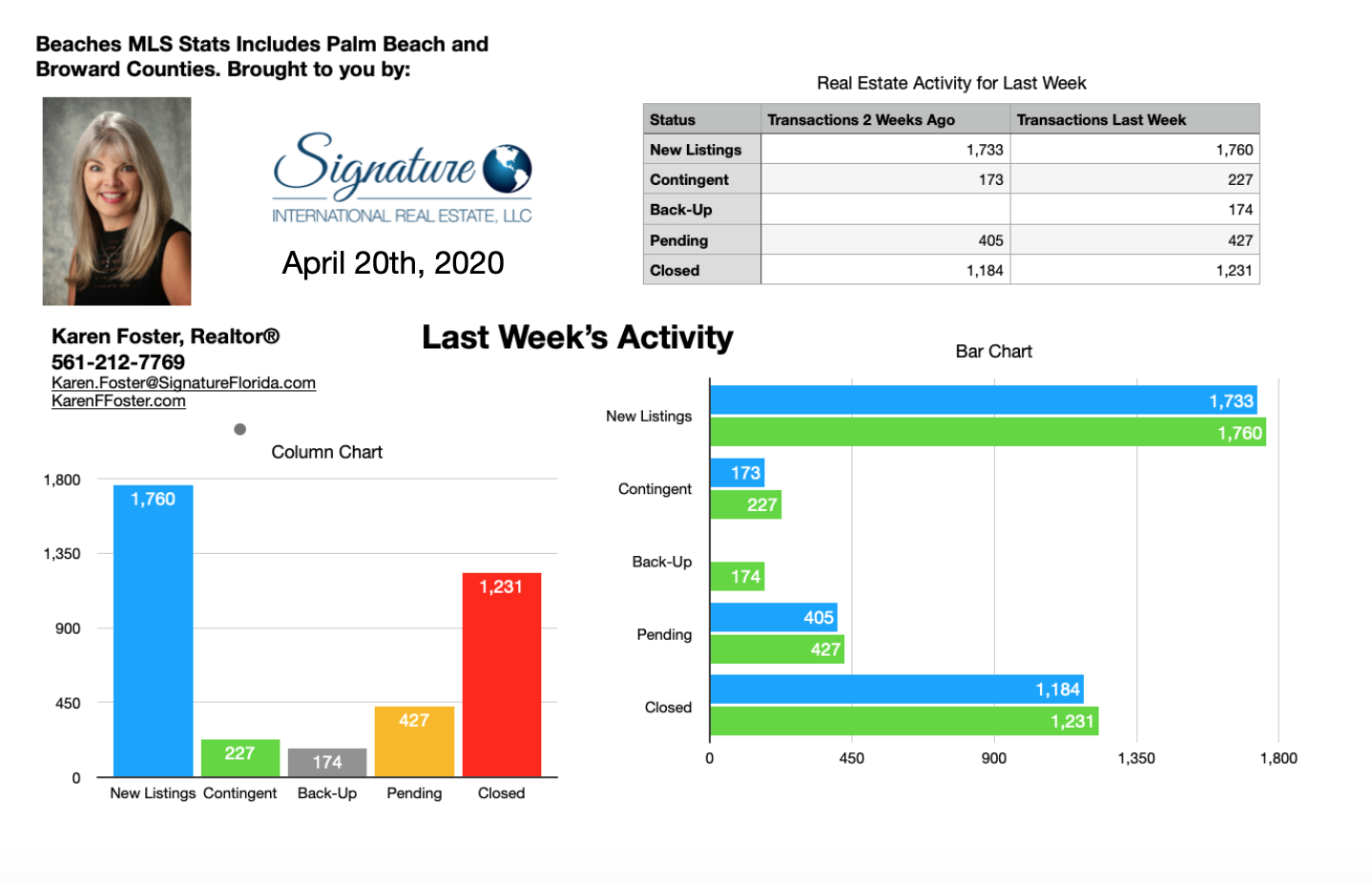 In Broward and Palm Beach County, out of 724 residential properties that went under contract last week, 95 of them were on the market for less than a week! 200 were under contract within 3 weeks of being on the market.
We have all had to quickly learn how to adapt our business to ensure everyone's safety. While most of the process is now done on-line, agents can show your home virtually to a buyer, doing a walk-through with their iPhones and Androids. Sellers have to leave the property if they are living in the home, and the agent will walk through the property with their iPhone, Android or iPad on FaceTime, or Zoom, or one of many other Apps to show them through the property while conversing with the buyer. It's a way to ensure the buyer sees all the flaws and doesn't end up with any surprises at closing.
Right now, more than ever, make sure you hire an agent who will have a professional photographer take plenty of photos, do a virtual walk-through, aerials, capturing the surrounding area and a video. Signature Photography, the company I use, does a fabulous job! (Photos, Virtual Tour and Video ) Make sure all documents are on-line. If it's a Condominium, Cooperative or a neighborhood with a homeowners association, most of those documents should be on the listing.
Now, once the buyer/s have seen the listing, virtual tour, video and then the walk-through by the agent, if they are interested in making an offer then, if they are in town, we can arrange for them to view your home personally.
In order for them to enter your home, they will need to wear clean gloves, a face mask and understand they need to only touch doorknobs and light switches! Really, since they do have clean gloves on, it isn't a problem. You will find that people who go through all these steps are much more likely to write an offer if everything goes well. They aren't interested in seeing a dozen or so properties before they make up their mind.
On the other hand, if you wait to list your property until after the Pandemic and Stay-at-Home orders are done there will be a lot more competition. We may see a surplus of homes on the market.
"Investors and successful people don't let fear and negativity run their life."